PowerStrength Disciples Earn Awards!
The PS East August Athlete of the Month goes to long-time PowerStrength Disciple Luke Elder!
Luke started with us heading into his sophomore year and just left us for his freshman season of college lax at Denison. Luke has developed himself into a great athlete, but also understands the bigger picture. He is a loyal member of the PSTS Fam and sets an example for younger athletes to mimic.
Luke was with us in the original garage, transitioned to North even tho it was a longer commute, and helped us break in our new East location this summer- that's 3 gyms in 3 years and no excuses!
Proud of this young man and we'll miss having him around all the time! Luke worked himself into the best shape of his life but will have much success both on the field and off.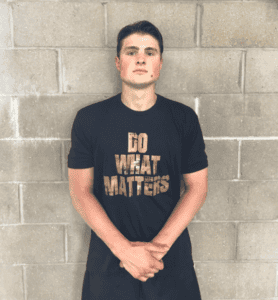 The PS North August Athlete of the Month was earned by Taylor Mitchell (FHE) after a string of multiple months put together! Taylor first started with us in 7th grade. He's now heading into his junior basketball season and got extra serious this off-season.
T put in the work on the court and in the gym- he gained over 15lbs, gained 2″ on his vert, and over 8″ on his broad jump! He balled out this summer, proving he embraced the process. You can't fake results like this!
We are PUMPED for T and looking forward to this season. He's still training hard and working for further success! One of the best parts is how he has matured as a young man over the years. He'd tell you firsthand that training wasn't always his favorite, yet he kept working and making it happen!