Kade Kostus 5-Star Transformation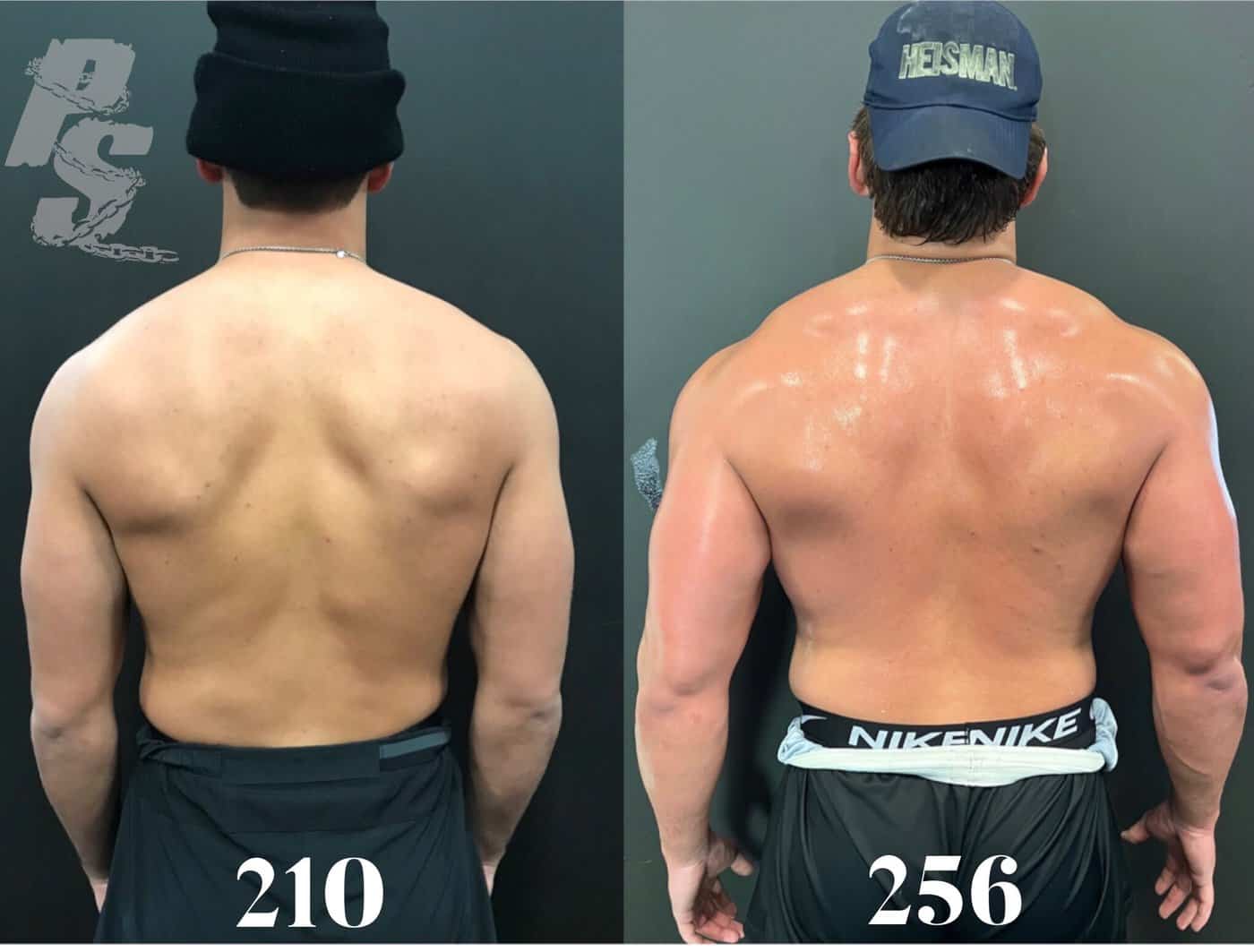 Kade Kostus, a recent 2022 graduate of Rockford High School, made it his mission to enter his freshman football season at Central Michigan University as prepared as possible. After an incredible training period at PowerStrength Training Systems…
…Mission Accomplished.
Kade is one of the most driven athletes to come through PowerStrength. To achieve the kind of goals Kade set, it was going to require extreme dedication to the process and 100% adhering to his custom training and nutrition plan.
Getting Started
Kade has been training at PowerStrength since the summer of 2020 as he prepared for his junior year of football (he was just 16-years old at the time). Unfortunately, over the course of the next two seasons he suffered freak injuries that prevented him from completing full football seasons his junior and senior years (a broken finger that needed operated on and a torn meniscus, respectively).
It left talented Rockford teams without one of their best athletes and left Kade on the sidelines unable to perform and showcase his ability. While frustrating, Kade made the most of it.
Even with these circumstances over this 2-year period, Kade was racking up college interest in both football and lacrosse because of his natural ability, athleticism, and future potential.  He was determined to improve his situation and he stayed hungry.
In one year, Kade amassed 17 Division 1 football scholarship offers and a lacrosse offer from Air Force. In the summer of 2021, Kade accepted a Division 1 football scholarship to Central Michigan University.
His senior year started strong but his season was cut short.
A Custom Plan
Kade returned to PowerStrength to transform after surgery to repair his meniscus follow his senior season,  He met with Brian, a long-time PowerStrength Coach, and together they laid out a custom training and nutrition plan to put him on track to towards not only healing – but completely transforming his body to complete as a Division 1 football player.
Over the next 14 weeks this custom plan required him training 8-10 sessions per week to gain his strength & confidence back in his knee, while continuing to develop many other athletic qualities. This plan included a customized nutrition plan to fuel Kade's training and help him recover optimally. The actual training plan was adjusted to fit his exact rehab and performance needs, while progressing him in all of the appropriate areas as safely and efficiently as possible.
To Kade's credit, he followed the training and nutrition plan to a 'T' and it paid off.
Massively.
One of the things that makes Kade so successful as an athlete is his attention to detail and adherence when following the training and nutrition program. Kade would be the first one to tell you that if you want to make significant athletic progress you need to stay dialed-in to what you are doing outside of the gym as well (nutrition, hydration, sleep).
Kade maintained his detailed approach to training, recovery, and nutrition for 14-weeks straight and earned incredible progress – resulting in a major athletic transformation.
A few highlights include:
Fully rehab his knee
Gained 46lbs – 210lbs to 256lbs
Added 17 reps to his 225lb Bench Test – 9 reps to 26
Set a personal best on his fully-electric 10-yard sprint – 1.58 seconds
In addition to getting faster and stronger, Kade was sprinting, jumping, and changing direction more efficiently and effectively than he ever has before.
At only 17-years old, Kade's work paid off. He is one of the most driven athletes that have walked through our doors at PowerStrength. It is extremely rare to have a teenager commit to 8 to 10 training sessions per week while adjusting his life outside of the gym to do what is necessary to compete and perform at the highest level. His commitment to excellence has pushed him to a level that we don't see many high school athletes reach.
Here is what Kade's mother had to say about Kade's experience with PowerStrength:
"Thank you so much to the staff at PowerStrength. Your investment in kids in West Michigan goes far beyond a typical gym. There's a reason people will travel up to an hour+ away to train with you. The leadership, character development and genuine care for each person that walks through the door is unparalleled. To our family personally, it was a sanctuary for our son.
When Kade's Dad got really sick (during Covid), Brian and the coaches personally called to offer his support. They continued to follow up numerous times over the subsequent months to ensure Kade was okay. They knew Kade needed to be in the gym. While Kade was going through the recruiting process, his Dad was on life support and I trusted the conversations Brian and the staff at PSTS were having with Kade – and how those conversations would help shape the major decisions he would have to make.
It was such a trying time and yet I knew PowerStrength would provide both high pressure to excel and high support to make it happen. I trusted the mentorship that surrounded Kade each day.
Emotional support aside, the physical growth that Kade made in his months training at PowerStrength was unreal. He was not only pushed very hard, but taught how to truly train the right way. Early in his training he was taught strategic ways to handle drills, lifting, etc. and his numbers erupted instantly. It only got better from there.
Now that we have moved Kade into CMU, it is great to get calls home and the appreciation he is feeling having trained at PowerStrength. Kade honestly can't believe he is 17-years old in a Division 1 football program. While of course this a whole new level and Kade has a ton to learn from the veterans and coaching staff, we feel confident he went into that situation the very best prepared that he possibly could have due to the training and guidance he received at PowerStrength."
All of the staff at PowerStrength are proud of Kade's work & how much he fought through to get to the point where he is now.
Well done Kade. You are a true model of hard work, resiliency, and an excellent example of what true commitment to a goal looks like. CMU is getting one awesome athlete and person!
Get a small glimpse of Kade's training below: