Jackson Ammon Gains Strength, Aggressiveness During Off-Season
Jackson Ammon trained hard all off-season and continues to do so in-season. His work ethic and consistency will continue to pay off as a team leader and at the next level. Jackson was a staple at his school workouts and also sought out additional training to maximize his athletic potential. Strength, aggressiveness, stability, and muscle were all added during the off-season and it shows if you watch him on Friday nights.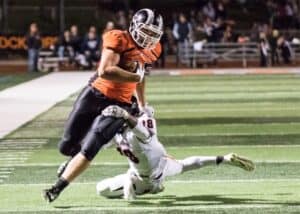 Jackson was also an All-Conference rugby athlete last spring as well.
We're proud to see him get the acknowledgement he deserves, especially against some of the best competition in the state!
Click the link below to read more about Jackson and what his coach has to say.
Rockford's Jackson Ammon provides strong blocking, receiving at tight end – MLive.com