Kenny Willekes Displays Unique Athleticism
Kenny Willekes ended his stand-out career at Michigan State and has been preparing for the 2020 NFL Draft with us at PowerStrength.
*Read THIS article to learn more background on Kenny and him growing up with PowerStrength in high school
Despite only playing defensive end for 3 seasons (in his entire life), he put together quite the resume of production and accolades. While "the game tape" is a big part of the evaluation process for NFL scouts and coaches, you also have the athletic testing side of the process which takes place at the NFL Combine or Pro Day's through performance tests and positional drills. The Combine also allows teams the opportunity for formal and informal interviews, as well as conducting full medical examines, and multiple psychological tests.
*Read THIS write-up to how Kenny faired at the 2020 NFL Scouting Combine
Then, of course, you have the intangibles to evaluate such as character, intelligence, leadership, hunger, ability to learn, performance potential, locker-room/teammate impact, etc.
In Kenny's case, the game tape and his accolades will speak to if he can play football for the level of competition he faced in college (see list below). Kenny also played in the 2020 Reese's Senior Bowl where he recorded 2 sacks and 4 tackles.
His medical tests will show that he's healthy despite battling the rehab process of a broken ankle in the 2019 Bowl game.
The Wonderlic test (35) and psych tests will show that his learning capability and hard-wired traits are well-above averages for any player regardless of position.
His Combine tests will reveal he's a top-10 athlete in those athletic tests across the board for Edge players at the 2020 Combine.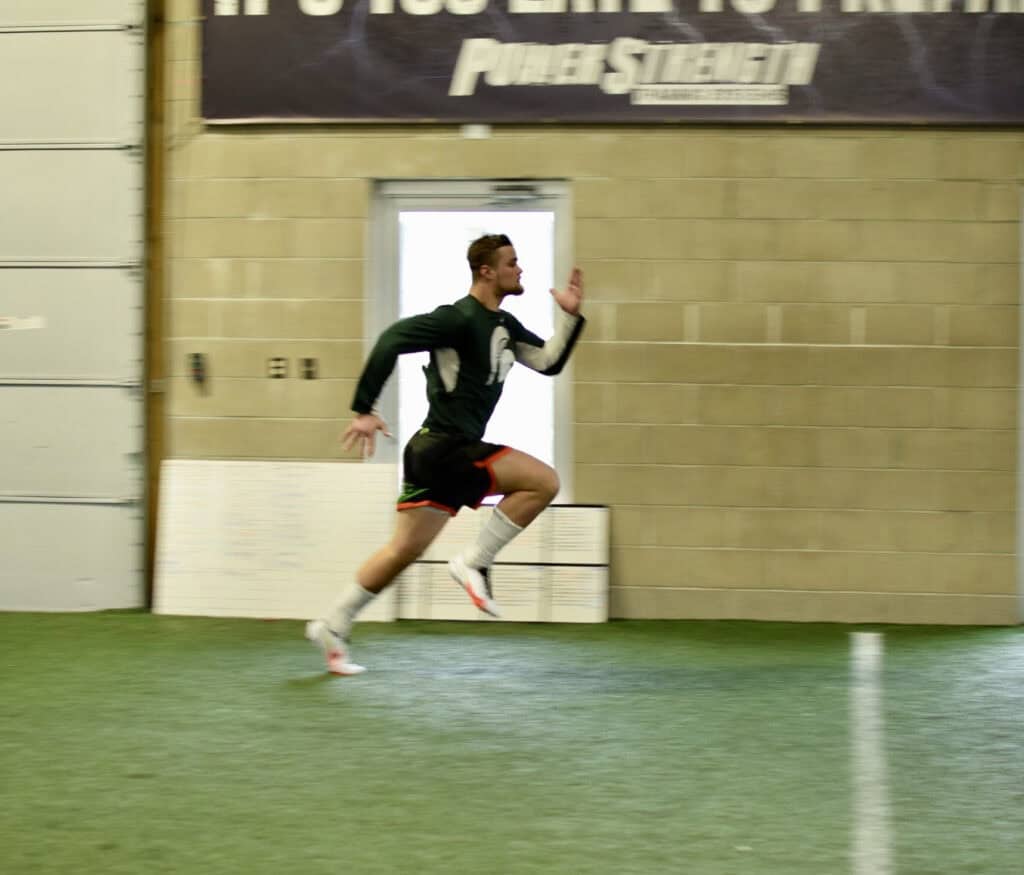 BUT…
Somewhere along the way, Kenny got hit with multiple labels about his athleticism…
"Not athletic"
"Below-average athleticism for edge rusher"
"Physical tools don't jump off the page"
"Isn't a good athlete"
"Has pedestrian physical gifts"
"Will test poor"
These were actual quotes circulating the interwebs.
Kenny decided to disprove the inaccuracy of this label with a little showcase of ability.
(*No he does not train this way. He trains to perform as a high-level NFL defender with the intention of doing so for a long time. This was filmed in one day as he can do all this relatively easily)
Anyone who trains athletes for performance or trains themselves can appreciate what Kenny does in this video from a sheer athletic point-of-view.
Internet Troll: "But you don't do backflips on the field so this won't transfer."
And you don't do barbell squats on the field either….but the capability is applied towards football skill development through specific football practice.
How it transfers to football can be seen from the game tape, college career production, and whether there is enough athletic potential to build a productive NFL career.
Or ask D-Line specialist, Coach Nathan O'Neil (@feethipshands), who flew in to work with Kenny on pass-rush skills during his Combine preparation. Coach will tell you how much progress was made as a pass-rusher in only a handful of focused sessions and how  Kenny's ability and mindset will transfer to the NFL.
If the Combine numbers didn't tell the whole story, the video hopefully sheds further insight into other forms of athleticism Kenny is capable of. And also provide a little entertainment during these unprecedented times.
Unfortunately for Kenny, there are still no official tests developed for hunger, discipline, and to determine an athlete's current or future level of complacency.
For now, his walk-on-to-All-American career and top-athletic results will have to do…"short arms" and all…
(…Don't get us started)
Kenny Willekes Career Accolades
Bachelor of Science – Chemistry
Started in 38 of 39 games.
2017 – 3rd Team All-Big Ten
2018 – 1st Team All-Big Ten
2018 – Big Ten Defensive Linemen of the Year
2018 – All-American
2019 – 1st Team All-Big Ten
2019 – All-American
2019 – Burlsworth Trophy Winner
2020 – Senior Bowl (2 sacks, 4 tackles)
Kenny Willekes College Career at Michigan State
*Only 3-seasons at DE
MSU All-Time Record Holder – Career Tackle for Loss (51)
2019 – Team Captain
2019 – MSU Team MVP
2019 – MSU Defensive MVP
2018 – MSU Team MVP
Career Sacks – 26
Career Tackles – 229
Career – 4 Forced Fumbles, 5 Fumble Recoveries, 1 Touchdown
Other Links
Kenny 2nd Draft Diary Installment HERE
Kenny Podcast on Mental Toughness and Perspective HERE