Kenny Willekes Excels at NFL Combine
Kenny Willekes put in the work at the NFL Combine last week and the PSTS Family is very proud!!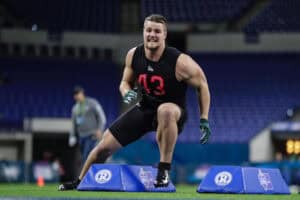 * In case you missed it, HERE is an article about Kenny and him growing up at PowerStrength Training Systems and selecting to come back home to prepare for his NFL career.
Overall, Kenny rated 4th highest athleticism score for Edge position and was Top-10 in all the combine tests for his Edge position!
He performed well in both D-line and Linebacker position drills – and also tested as the most flexible athletes at the Combine!
And with a 35 on his Wonderlic Test, he's one of the brainiest of the bunch!
Also, with his Bench results, Kenny raised nearly $3,800 to donate to Helen DeVos Healthy Kids, Smart Kids Program! Kenny hit 32 reps at 225lbs and was 1st for Edge players, and 2nd overall out of the defensive linemen.
Combine Results with personal-bests in parentheses)
40yd Dash – 4.87 (4.82)
10yd split – 1.69 (1.61 fully-electric)
Vertical – 32.5″ (32.5″)
Broad – 119″ (119″)
20yd Shuttle – Did not test (4.22)
3 Cone – 7.39 (6.95)
225lb – 32 (32)
Here is a snapshot of what Kenny accomplished while at Michigan State:
Career at Michigan State
*only 3 seasons at Defensive End (in his life)
Started 38 of 39 games
MSU All-Time Record Holder – Career Tackle for Loss (51)
2019 – Team Captain
2019 – MSU Team MVP, Defensive MVP
2018 – MSU Team MVP
Career Sacks – 26
Career Tackles – 229
Total Career – 4 Forced Fumbles, 5 Fumble Recoveries, 1 Touchdown
The journey is never done and we are still chasing goals!