Earning the College Football Dream
The Beginning
In the summer of 2013 we would make weekly trips to the local field with our college and high school athletes for our speed sessions. 25 athletes would be stretched across the entire field as they drilled technique and sprinted fast. The turf was hot, and the sun would slowly creep back behind the press box as we completed the session.
There was one athlete who didn't really belong – but you wouldn't notice just by looking at them. You noticed it when they started running. He was the one 7-yards behind everyone else…
This athlete was an 8th grade Dan VanOpstall.
Around 6'3 at the time, he fit in from a height standpoint. Athletically, Dan was blessed with height and it was apparent he was going to have to earn everything else. He was skinny, slow, and searching for coordination.
Why was he in this group? Because his older brother Matt (Hillsdale College football) was a PSTS Disciple from the very beginning and was he was often Dan's ride to the gym as they commuted in from Jenison 3-4x per week. We let Dan come along with Matt as he joined in workouts with a collection of the best college athletes in the area.
Dan had been coming to the gym for a good chunk of time by now. He didn't say much, what 8th grader would speak up around college football players? But he observed. He learned how to work hard. And he did his best to keep up with the pace.
At the end of his 8th grade year he held a couple middle school gym records and you could see progress being made.
The Climb
Throughout high school, Dan was consistent with his training. He played football, wrestled, and also throwing in track for a season. Multiple sports, training at school, and he still MADE time to get extra training in at the gym. He took what he saw at such a young age and was applying it – in school, sports, training, and life. His dedication was starting to pay off in all aspects.
Having the insight from his brother Matt's journey, Dan hit the recruiting trail and attended camps and toured campuses.
After a good summer and junior football season, Dan had earned interest from college coaches and held a few scholarship offers.
During his junior wrestling season he took a hard hit to the knee and he went down. The worst thought came true…
…Dan tore his ACL 8-months from the start of his senior football season…
The Comeback 
In case you don't know, for the majority of football players who haven't committed to a college, the summer before your senior season is massively important for recruiting. You can show what you can do on the field, you perform to get noticed, you interact, and you hit the road visiting schools and cities.
Dan wasn't going to have the opportunity to perform, which caused even more uncertainty in an already uncertain process. He was devastated at first.
But not for long.
Dan was surrounded with great support and he had witnessed many athletes comeback from injuries to accomplish their goals. We often notice that the majority of athletes who spend considerable time in a coaching program generally handle adversity better than their peers.
While tough, Dan quickly fixed his mindset on taking things one day at a time. He focused on what he COULD do rather than what he couldn't do. Surgery, recovery, and he started physical therapy. He even continued to attend wrestling matches and encourage his teammates from the sidelines.
For months Dan attended therapy and came to the gym 3-4 days per week to train his upper body. He would either crutch around the gym, or post up and weights would be brought to him. This work ethic allowed his mind and body to become stronger and steered his focus away from the negative aspects of his injury. He was in the gym training and getting better. His upper body was a weak-point for him back then as he needed more size and strength – well, it's not anymore.
Dan couldn't participate at any camps or combines all summer. He still made campus visits and talked with college coaches. He did everything he could to stay on the recruiting trail. Not being able to physically participate also allowed him to stay consistent with his training all summer as he worked to get himself back for his senior season (another silver lining). He started adding back in his team workouts and was in pads and practicing in mid-August with his teammates.
8-months after his injury Dan suited up for the first game of his senior year.
Earn Opportunity 
Dan braced up his knee and he was a two-way starter all season for Jenison. They earned a winning record and Dan was named to the All-Area Dream Team. With all the adversity he wrapped up his high school football career on a high-note.
Much work still needed to be done while recruiting efforts were heating up all season. College visits took up much of his weekends. Dan had multiple D1 offers and about 7 offers in total. More visits, countless phone calls, and more uncertainty about a big college decision.
Because of Dan's experience with adversity and the support from his family, he took it all in stride. Having over a 3.8 GPA and solid test scores also helps during these times as it created options and opportunity. Diligence to your academics is something Dan heard early on as a middle schooler and made sure to follow-through on.
Scholarship dollars, financial aide, coaching system, specific academic programs – all of these are typically out of control of the athlete. The coach/school will determine these. The athlete simply must prepare themselves to perform in the classroom, on the field, off the field, and gather as much information as possible to help guide the decision-making process. Therefore, Dan did all of this and more. (*Recruiting guidelines are something we help our PSTS football players with)
The process was nearing an end. An Ivy League offer almost complete. But then – Dan's dream school came through with an offer to play college football.
College Dream
It wasn't offering a full-ride, but it was offering an opportunity.
Dan was offered a preferred walk-on offer by the Spartans of Michigan State. From the very beginning it was among the top of Dan's college list.
Now he had another decision to make –  take a scholarship offer from another school, or earn everything as a walk-on in East Lansing?
Just think that exactly 1 year prior to this Dan was on the shelf with a torn ACL and all the uncertainty in the world. His dream seeming so far away, and now he had the opportunity in front of him.
One he sacrificed and worked so hard for.
Dan has been around PSTS long enough to witness these types of walk-on opportunities for other PSTS athletes (listed below) and now it was his turn to decide.
Alex Kaminski – Lowell – Michigan
Carl Myers – West Catholic – Michigan
Kenny Willekes  – NorthPointe – MSU
Peter Fisk – FHN – MSU
Jake Martin – FHN – Michigan
Jack Mandryk – Hudsonville – MSU
Nick Marosi – Catholic Central – Miami (OH)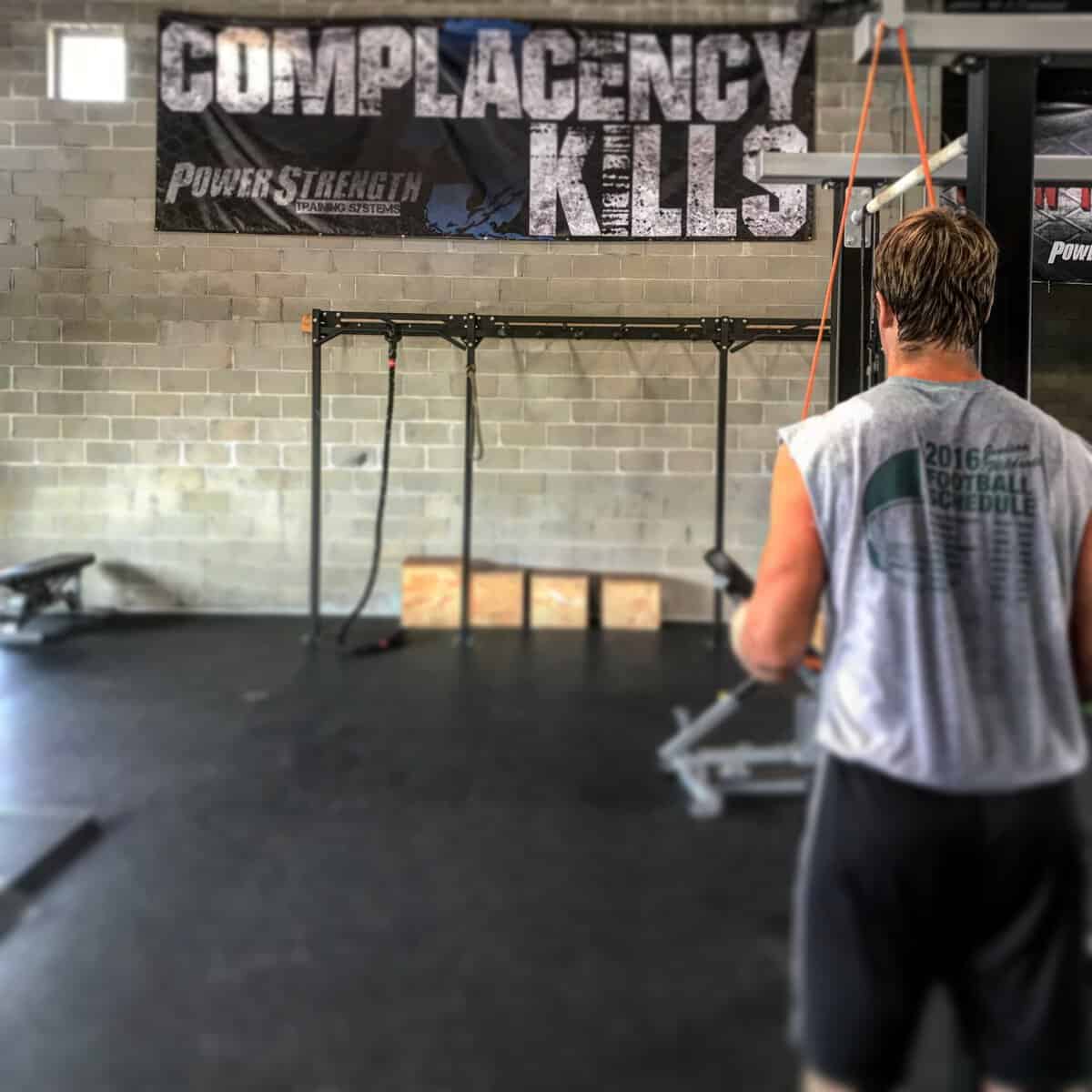 Complacency Kills
Dan handled the decision-making process like a pro. He accepted the preferred walk-on opportunity and his dream became a reality. The path was not how he envisioned it in his mind, but it came to fruition all the same. It's in his blood to compete and earn everything. No entitlement and never letting complacency set in.
The road ahead is a long one and it won't be easy. Dan will be the first to tell you he knows the challenges. He'll continue to take it one day at a time and win each day – training, nutrition, recovery, and studying. He's already doing this by training 4-5x per week and always putting in extra work – he is his own biggest critic. MSU offered him the opportunity when he was 255lbs, a month later and he's already at 265lbs and climbing.
Move the Chains
Dan understands that it takes a village and he's grateful for that. His parents, his brother Matt, his high school coaches, his surgeon, his PT, his teammates, and his PowerStrength Family – all played a role in his humble story. His parents are extremely supportive and they raised a driven and respectful young man. Dan is a leader in the gym and does the little things right. His humility and work ethic serves as  an example for young athletes to mimic. For those who have a dream but don't know exactly how they'll get there – remember that consistency beats intensity.
"You can't fake good kids", is a quote that comes to mind when thinking of Dan and his story.
The 'bumps in the road' are certain and they'll try to knock you off track. Stay the course. You don't have to see the whole road, you just have to keep moving forward. You keep moving the chains. Just like Dan did.
And around here, nobody goes on this journey alone.
Well done Dan. You earned it all.
Time to get back to work.
-Mark