6-Week High School Basketball Preparation Program
Basketball season is almost here and athletes have been working hard this off-season. We want to ensure all their time, energy, and effort is maximized. The best way to do this is to fine-tune the body. It goes beyond simply running suicides, going for mile-long jogs, and playing pickup games in an attempt to prepare for the preseason.
"I have been training at PowerStrength for a few years now and it was one of the best decisions I've made for my high school career. I have gained muscle while increasing my vertical. One of my lofty goals was to dunk by my sophomore season, which I was able to accomplish. It has helped me develop as a person as well as a player. Many things set PSTS apart but for me it was the atmosphere – it is something you get no where else. The knowledge of the coaches – and the fact that they actually care -combined with the fact that everyone there is focused on getting better (by any means) is inspiring. I now have many scholarship offers and feel beyond prepared for my senior season." – Tyler B. – High School Basketball 
At PowerStrength, this is what we focus on with our basketball athletes as the season approaches:
Unglue the soft tissue of the body to reduce tension and stress for greater athleticism.
Mobilize and stabilize the joints to ensure proper function and safety on the court.
Teach and groove proper movement mechanics through strength training to reduce the likelihood of injury, while generating more force when jumping, landing, and cutting.
Introduce true core training that improves agility and quickness.
Perform full body speed and power movements to maintain explosiveness for the full 4 quarters while the competition is gassed.
Eliminate the gimmicks that are a waste of precious training time and don't transfer to the court.
Coach optimal nutrition to perform at maximal efficiency during practice, games, and to recover properly.
Provide the education to perform many self care activities outside of the gym to ensure adequate health and recovery.
We will be doing all these things in our

6-Week Basketball Preparation Program

that begins on

September 28th.
Only a limited number of spots will be offered for this program, and it is open to both male and female high school basketball players.
Athletes must sign up for either 12 total sessions (2x/week), or 18 total sessions (3x/week). The special pricing for this program is a one-time payment of $299 for 12 sessions, or $399 for 18 sessions. (All sessions must be used before 11/12/15).
We have a variety of training times available to easily schedule around other preseason activities such as open gyms, skill sessions, and league games. This program will run for 6 weeks from 9/28 until 11/5 – allowing for a week off before high school tryouts begin.
If you haven't been preparing your body for the rigors of the season, then we're here to help. If you're feeling ready physically then lets fine-tune and ensure that nobody is better prepared than you!
Follow these 3 easy steps to register and inquire more about this program –
1. Click this link www.powerstrengthpro.com/contact
2. Fill out the short Inquiry Form
3. Write – "I want the 6-week BBall Prep" in the comments box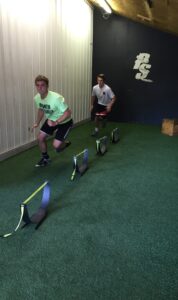 You will be contacted by PSTS with more details and answers to any further questions you may have.
"Hard work requires zero talent." 
-The PSTS Team