Zak Ahern – Excellent to Elite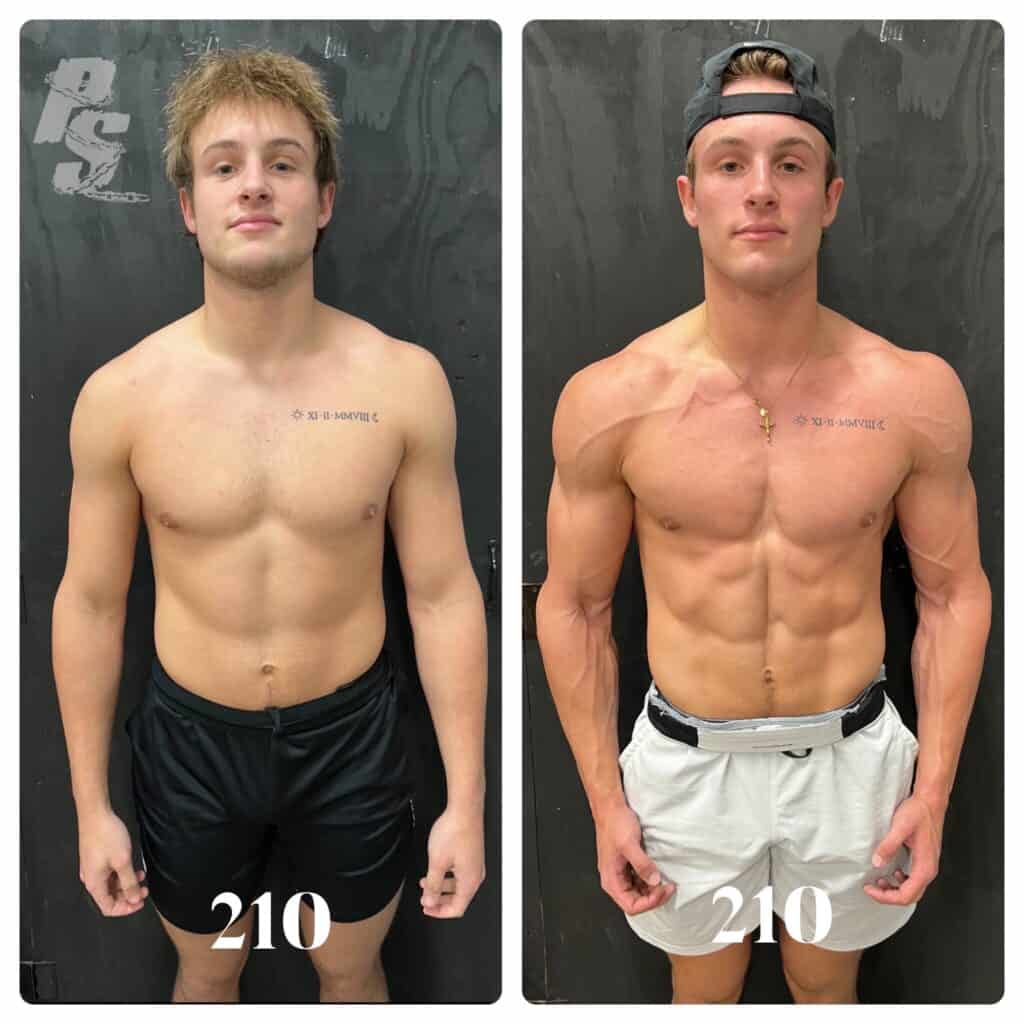 From Excellent to Elite!
Zak Ahern (Rockford High School '22) dedicated himself to a complete transformation over the last 3-months like nothing we have ever seen before!
Coming off a a decorated senior football season at Rockford, where he totaled 50 touchdowns, earned Division 1 All State honors, All-Area Dream Team, and Player of the Year awards – Zak accepted a football scholarship with the reigning Division 2 Champions, Ferris State University. 
Being the athlete and competitor Zak is, he's always aiming to raise the ceiling for himself. He is what we refer to at PowerStrength as a "1%er" and truly lives the 'Complacency Kills Lifestyle'.
The PowerStrength Plan
After recovering from a surgery after his season, Zak returned to PowerStrength to prepare for college and achieve BIG goals. What's interesting is that due to his surgery, he couldn't use his arms at all for the first 4-weeks of his training (not even to run or jump). Zak worked closely with long-time PowerStrength Coach, Brian Paulsen, and the trainers at the PowerStrength Alpine facility to create a customized program that adjusted all training to fit his exact needs. This meant accounting for his restrictions, previous training experience, current ability level, and goals to give him the best training experience.
Plus, how things are organized at PowerStrength, Zak could still train alongside  his brothers, Ryan '24 and Luke '26, and numerous other dedicated athletes so everyone is always competing and supporting one another.
Zak was also given an individualized nutrition plan by PowerStrength that he 100% adhered to. He was disciplined, tracked his food every day, and maximized the rewards of nutrition accountability. 
In the 12-weeks since Zak began, he hasn't gain any bodyweight – he's stayed at 210lbs. Although he weighed the same, he was definitely not the same athlete. He dramatically improved is body fat % by adding muscle and dropping body fat. This was ideal for him as his main goals were to improve speed, power output, and overall athleticism.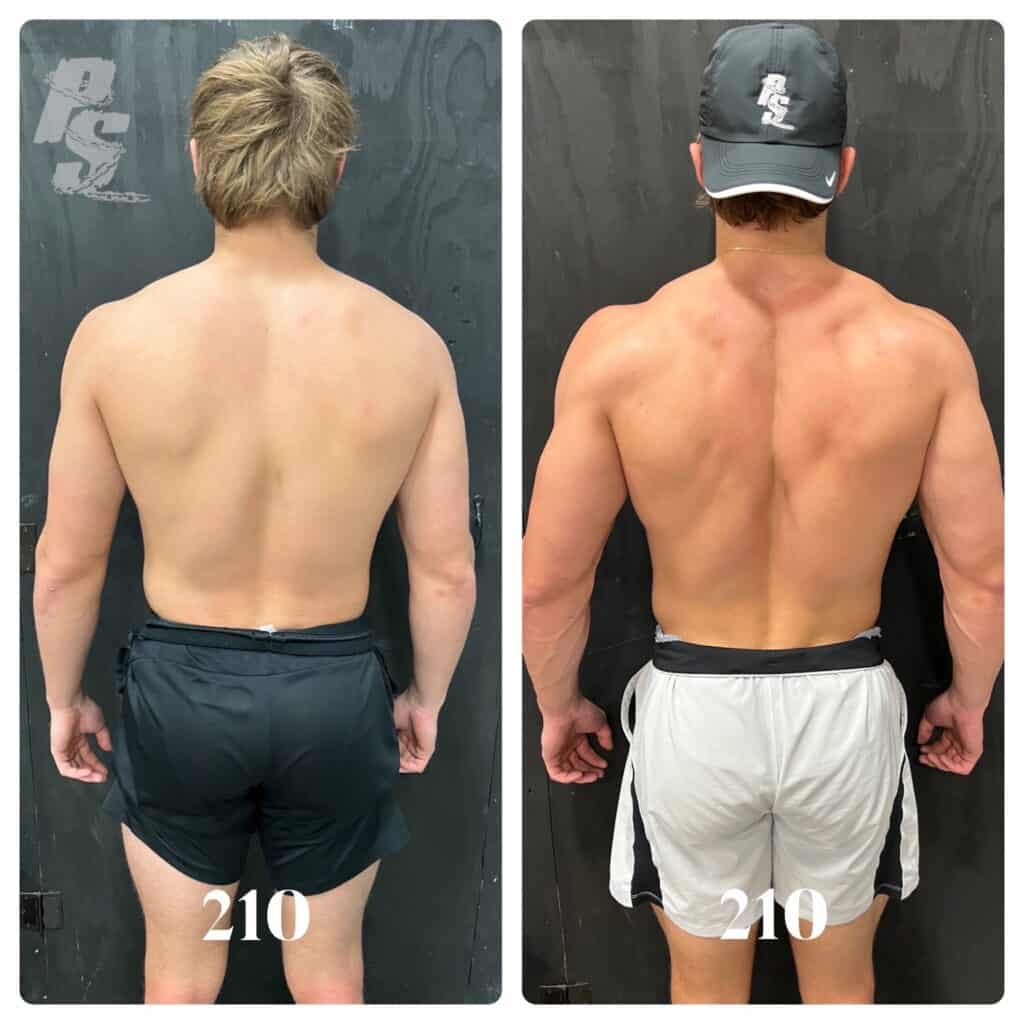 Mission accomplished as Zak hit personal bests in the following performance tests: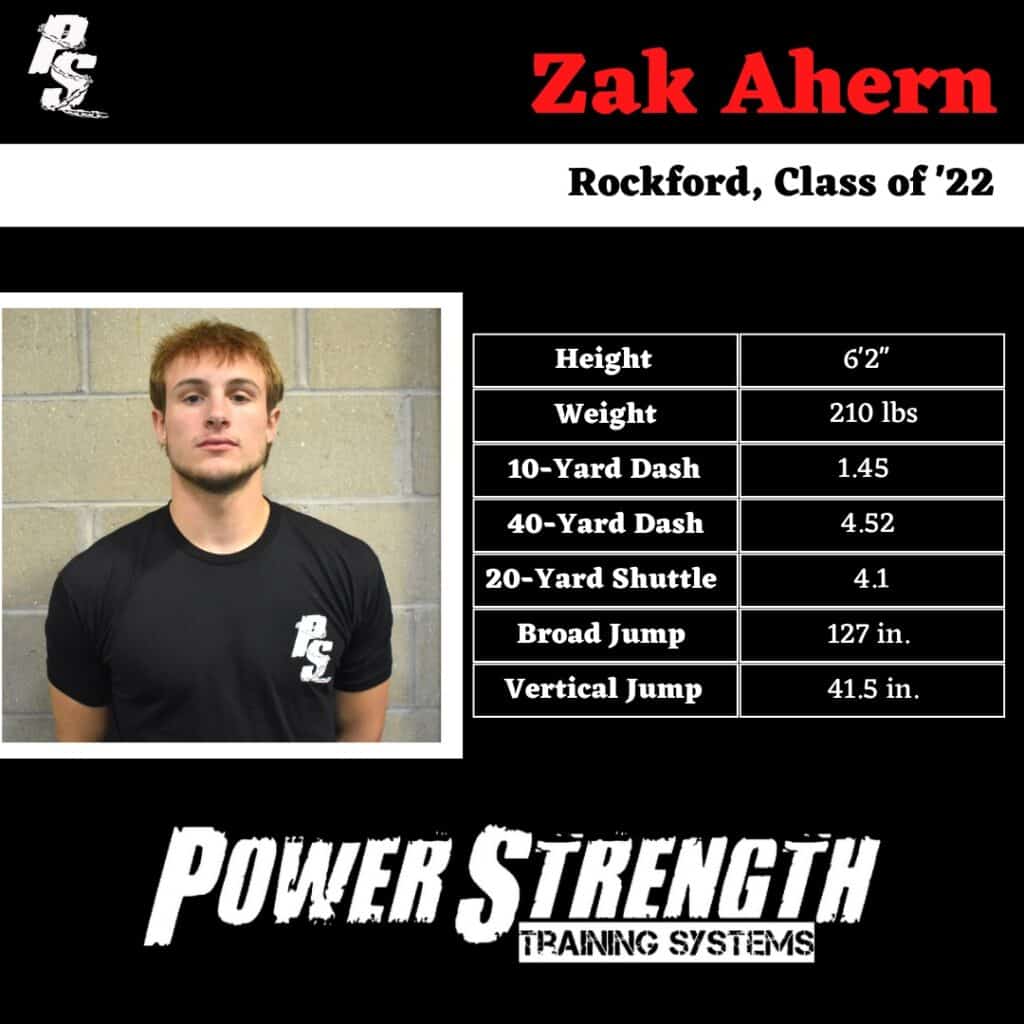 Zak is one of the most driven and hungry individuals we have ever worked with at PowerStrength. Not to mention, he's one of the best overall athletes we've ever seen – at any level! His work ethic and commitment to improvement has taken him from an excellent athlete to an elite athlete! Most importantly, he's healthy and ready to compete at a champion level as he begins his college career. 
Want to know Zak's secret?  He LOVES the process of training, being detailed, and competing!
Here's what Zak's dad, Mike, had to say about Zak's experience with PowerStrength:
"Zak has always worked hard and been self-driven.  PowerStrength pushed him to improve and took him to another level.  He would not have made the incredible gains without the great staff at PowerStrength.
The individual attention PowerStrength provide's to their athletes is immeasurable!  PowerStrength has a great training environment (all 3 of my boys love it) where trainers and fellow athletes push you to improve. The knowledge the trainers possess from nutrition plans to specific exercise regimens have helped Zak buy in even further – if the effort is there, the results will be as well.   
In addition to the expertise and results, the relationships that are built at PowerStrength between the athletes & coaches are powerful and  keeps the kids coming back. I can honestly say all 3 of my boys would not be where they are today without PowerStrength!"
Well done Zak! Your entire PowerStrength Family looks forward to watching your continued success. Thank you for setting a strong example for so many! From Rockford to Big Rapids – Ferris State is adding an incredible athlete and an even better young man!
Get a glimpse of Zak training below.