Transformation Winner "Starting to feel like my old self"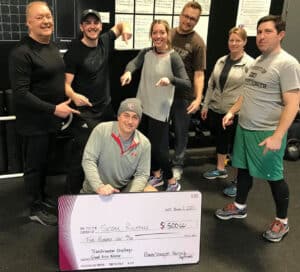 Congratulations Transformation Winner – Scott Ricketts!
Scott joined the Transformation Challenge after a 2-year hiatus from working out and running and has experienced fantastic results in his first 30 days at PowerStrength!
As a result of his dedication, Scott dropped 13 pounds and 3.5% of his body fat! Above all, he is feeling INCREDIBLE, running again, and excited for what's to come!
"All of this happening in just ONE month at PowerStrength is pretty incredible!"
"About two years ago, I finished my 3rd marathon in Chicago, and it was the worst race of my life! The training for this marathon had sucked the life out of me. Between training, work, a kid in travel sports, and just life in general, I was just done! I felt broken and no longer saw myself as an athlete and I was reluctant at first to sign up for the challenge. I didn't know if I wanted to invest the time or effort to do this."
If you fast-forward 30 days you'll see Scott is definitely glad that he joined the challenge and we look forward to watching him continue improving on his results here at PowerStrength. It will be exciting to witness Scott's continued transformation!
Renewed Energy…
"I'm starting to feel like my old self again. I look in the mirror and can see the physical changes that are happening. Between losing weight, fat, and gaining muscle it is driving me to want more!"
Scott's advice to anyone looking to get started? "JUST GO FOR IT."
"Everyone at PowerStrength really cares about you and what you're trying to accomplish. The trainers always make it feel like a family regardless if you're new or you have been at the gym for years. I would say to anybody that if you're just stuck in life and looking to change mentally and physically, give PowerStrength a try for a month and see what happens! You will be hooked."
Way to go Scott!
Ready to feel like your old self again?
Contact us below and we'll help you get started!