Strength Training Is A Family Affair!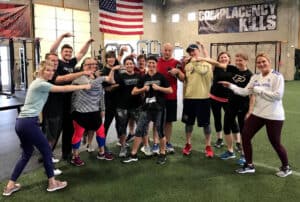 Congratulations to Juli who is our PowerStrength East Member of the Month!  Strength training is a family affair for Juli, who has been dominating workouts at PowerStrength for 18-months straight in the Thrive and Blue Collar sessions!
"All 3 of our kids gained advantages training for their sports with PSTS – now we are excited to be a complete PSTS Family."
Juli always runs into the gym full of energy and has the ability to motivate everybody she comes in contact with. She is one strong lady and we love the enthusiasm she brings to the group!
"PowerStrength has offered a completely new challenge – importantly, putting full-body strength training forefront as we enter the "retirement" years. I have never felt more balanced and stronger than I do now and believe PSTS will be a key factor in reaching my personal goal of living to 100 years old with a high quality of life."
"After training at different gyms from Los Angeles to Fort Lauderdale, I appreciate the depth of knowledge behind each exercise and workout at PSTS. The coaches are well-trained and maintain a safe, inspiring and fun environment. And, I'm fortunate to be able to train with dedicated, hard-working, caring people who encourage each other to reach their goals and better their lives. Looking forward to many more years with the PSTS Family!"
Juli, we love having you as a member of the PSTS Family and we share in your excitement of achieving your goal!
Want each new year to be better than the last?
Contact us below and we'll help you feel your best!