PSTS Athlete Bronson Hill Signs Contract with Cincinnati Bengals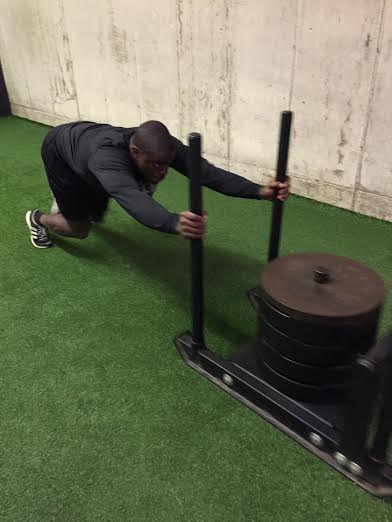 Like many undrafted rookie free agents, it has been a long road for Grand Rapids native Bronson Hill (GR Catholic Central, Eastern Michigan). Many people don't understand the tough route that undrafted NFL players take in order to achieve their dream. We've witnessed it firsthand with our history of PSTS athletes taking unconventional routes to NFL camps and rosters.
No matter how talented the football player, or freakish the athlete, one thing is for certain is that if a player finds himself on this path, it is not for the mentally weak. This is where many athletes fall off. They can't handle the rejection. They are unprepared to deal with life without a football home.
Bronson demonstrated extreme endurance throughout this process. He remained calm and positive. He stayed consistent with his training and took it day by day. Bronson came to us over a year ago to prepare for his combines and he never left. He trained alongside other pro-hopefuls and when their paths took them a different direction he trained with the PSTS college athlete crew. Never did he act entitled or demand special treatment. While his physical talents are special, his attitude and demeanor are the traits that we find ourselves sharing as examples around PSTS with our younger athletes.
Below is an old video from last year of Bronson training for his combines:
After his long journey he has officially signed a future's contract with the Cincinnati Bengals. This definitely doesn't mean the work is over, as a roster spot must still be earned. What it does is provide a little certainty after a long period of uncertainty. The real work can now begin.
You can read the official article here: Bengals add RB depth, sign Bronson Hill to future contract
So what did his road look like? Why do so many guys break when others push through?
What do you think of this time-line of Bronson's past year?
January 2015- Started combine training at PSTS
March 2015- NFL Regional Combine – Chicago – Invited to Super Regional Combine
March 2015- Eastern Michigan Pro Day
March 2015 – NFL Super Regional Combine- Arizona – Tested among the top RBs of 2015
May 2015 – Invited to NJ Jets Rookie Mini-Camp –Released
August 2015- Invited to Bills Training Camp – Played in 3 pre-season games- Released after 5-weeks
September 2015- Signed to Chicago Bears Practice Squad, Released after 2-weeks
October 2015 – Workout with Miami Dolphins – Signed to Practice Squad – Released after 1-week
November 2015 – Workout with Detroit Lions – Not Signed
November 2015 – Workout with Miami Dolphins– Not Signed
November 2015 – Workout with New Orleans Saints – Not Signed
December 2015 – Workout with Green Bay Packers – Not Signed
December 2015 –  Signed to New Orleans Saints Practice Squad – Not re-signed after 4-weeks at end of the season. Released.
February 2016 – Workout with Cincinnati Bengals – Signed Future's Contract
That is a lot of travel, rejection, unknowns, and uncertainty. This is just an example of controlling what you can control. We aim to prepare all our PSTS athletes to handle adversity and be mentally tough. Bronson has simply exemplified that on the largest stage through his perseverance and patience.
He continues to prepare daily in the gym and embraces the journey.
Ascend or Perish.