Making Fitness and Health A Priority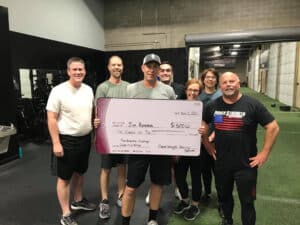 Congratulations Transformation Challenge Winner – Jim Reitsma!!
Making fitness and health a priority over the 30 Days, Jim dropped 6 pounds of fat and gained muscle. He did it through consistent workouts, and transforming his daily nutrition routine.
"My diet is usually filled with poor food choices. My daily routine usually includes pop, various gas station snacks, and fast food. During the 30-Day Challenge, PowerStrength gave me simple nutritional guidelines that helped me transform my diet. I focused on drinking water instead of pop. I ate more protein, fruit and even tried some vegetables. You can work out 5 times a week, but without a healthy diet you will go nowhere."
Fun Fact: Jim first began training at PowerStrength in 2013 at the original PowerStrength location. He was one of the first adult members to begin training with us when he joined our first-ever challenge – and WON. He has been a PSTS Disciple ever since!
"I started at PowerStrength in October of 2013. Prior to this I had no other real workout experience. I tried doing things on my own, but that never went anywhere. I was not feeling good and needed a change. PowerStrength was life changing. I gained more energy, started sleeping better, and my stress level went down. Over the years I have also been hampered by back and knee pain. The trainers have developed exercises that have helped ease my pains and strengthen those areas at the same time."
Jim's children Matt and Jenna, and his wife Laura, have all trained at PowerStrength as well, and have been a motivation for him to get back in the gym, stay consistent, and remind him of the importance of making fitness and health a priority.
"My goal going forward would be to make it a full year with no interruptions. I'd like to build upon what I gained in the last 30 days. I have no doubt that the coaches will continue to push me and encourage me."
Congratulations Jim! We can't wait to see you continue to transform and build upon what you have started!
Are you over the age of 40 and want to make your health and fitness a priority? 
Contact us below and we'll help!