Hard Work Pays Off For Gabe Race
Big Gabe Race is showing that hard work pays off. He trained 3-4x per week this past off-season and is having a solid senior season. Here are a few words his mother shared with us:
"I wanted to take the time to thank you for the training Gabriel received in the spring. He has done well this season. Others on his team have gotten injuries, but he's managed to play through any of his minor injuries. I attribute he's physical and mental toughness to his well spent time at PowerStrength."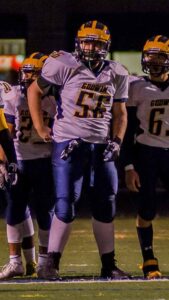 We love getting messages like this as we know how much our parents trust and support us! We repay them with results and a close-knit PSTS Family!
Click below to read more about Gabe's impact this season.
Gabe Race makes smooth transition to center for Godwin football team – MLive.com