Carl Myers, West Catholic, Accepts Michigan Football Preferred Walk-On Offer
This isn't the first and won't be the last time we talk about Carl Myers. Carl has been training with us at PowerStrength going on 3 years and his dedication is paying off.
"Be A Pro" is one of our PSTS Core Values and Carl has adopted this mindset throughout the recruiting process and his high school career. Carl is well-raised, well-coached, and will make the University of Michigan very proud someday.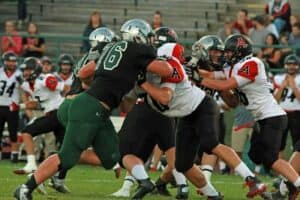 When Carl first came to us he was the youngest in our advanced high school group. Training alongside top area athletes that were 1-2 years older than him was eye-opening and he had to adapt quickly. He stayed consistent and was hungry to improve in more ways than one.
Carl is a stand-up guy off the field but definitely plays the aggressor on the field and in the gym. The tenacity he has developed has helped him succeed.
But first, another state title run for him and WC. Click below to read more.
http://highschoolsports.mlive.com/news/article/-2932128341986704896/grand-rapids-west-catholics-carl-myers-accepts-michigans-preferred-walk-on-offer-will-pursue-two-sports/