These Athletes Have NO Excuses!
July Athlete of the Month at the North gym goes to our man Ethan! Ethan is one of those guys who simply gets it done.
After this summer of training he's up 20lbs of body weight, added 50lbs to his squat, 60lbs to his deadlift, and 20lbs to his bench! He's running and jumping better than ever!
Despite this success, the best thing about Ethan is his "no excuses" attitude. Most days he travels 1hr+ in from Holland by a combo of bus/bike/walk (one way!).
At 16-years old he makes it happen and coordinates his training and transportation schedule. How many kids do you know that do all of that??
We love how he MAKES it happen! Very proud he's with us as a PSTS Disciple!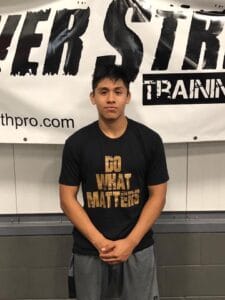 Athlete of the Month at the East gym goes to Cre White! Cre has been with us for years as she is constantly working to make herself a complete soccer athlete.
She loves the process of improvement and is always consistent with her workouts- no matter how hectic her soccer schedule gets!
Cre's quiet demeanor is not to be taken lightly- she's focused and displays a strong sense of inner strength! Cre can do 10 chin-ups, 30 push-ups, and demonstrates incredible control when changing direction on the field.
Her experience in training (she's been training alongside college-level athletes for years) is prepping her for a big season and the opportunity to play at the next level in the future. Her work ethic is a great example for many girls to follow!
We're proud of how Cre takes it day by day and puts in the work!
Way to go Credence!