"At 43, I Feel Stronger Now Than I Ever Have!"
"At 43 years old, I feel stronger now than I ever have. My clothes fit better and my co-workers and family are constantly asking me what I'm doing. My answer is the same every time – PSTS!!!! I absolutely love it here."
Before PowerStrength, Heather had already lost 40 lbs. doing at-home workouts, but needed something more. In her 3 months at PSTS, Heather has lost an additional 15 lbs. and gained 10 lbs. of muscle helping her to feel stronger!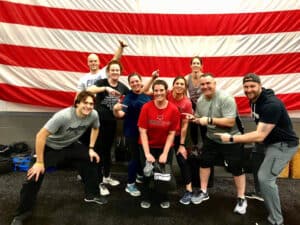 Congratulations to Heather for earning PowerStrength Member of the Month!
Heather has been part of the PowerStrength family for the last 3 months, and she has already made AMAZING progress! Heather has been consistently attending 3-4 sessions per week since!
"I decided to join PSTS on October 31st for the 30-Day JumpStart. Right away I knew PSTS was the real deal. I had my first meeting with the coach and he ran me through a variety of exercises I had never done before. I was definitely sore the next day but I couldn't wait to go back. All of the coaches and other clients were so welcoming from Day 1 and I never felt judged for being out of shape. I find that I actually can't wait to go to my next workout. When I walk in the door I feel at home. I also like the fact that it's not just about working out, it's about learning about nutrition, too."
Heather is feeling stronger than ever, and moving better than ever. She brings a smile and a great attitude to every session she attends which is contagious!
We are so glad to have you as a key part of the PSTS Family Heather, keep it up and keep smiling!
Are you over 40 and want to feel stronger?? We can help!
Contact us below to start your trial program with no strings attached!