3 Reasons Why Female Athletes Should Take an Offseason
PSTS coach Skyler Davis bolsters the topic of female athletes prioritizing their off-season, sport schedule, and training throughout the year. Skyler has worked with all of our female athletes at PowerStrength either on an individual or team level. Below he shares briefly about what he's seen regarding the trend of current female athletes, and the thought process and pressures they face as they compete among their peers.  Enjoy. 
Athletics are always the combination of physical attributes and skills. Because both are necessary components of competition, both should be trained. The problem with the culture of sports now is that not enough athletes train both.
"I'm going to practice my approach to the net 30 times today."
"My coach expects me to go to open gym at least twice a week."
"I would, but our club team plays three games this week."
"If I don't play AAU no colleges will see me."
"Everyone else does club/AAU/travel/open gyms, I've got to keep up."
I'm sure you have heard or said every one of these lines at some point. While the concepts behind these are not untrue, how many times have you heard the following?
"I'm jumping better, cutting better, and feel stronger out there."
"While some of my teammates have injuries, I'm still going strong through the season."
"My coach says I've really developed physically, and that's going to give me a chance this season."
"I'm dominating my team workouts and developing into a leader in practice."
"My coaches noticed right away that I was the strongest freshman and had the best form."
"I'm more confident in practice and workouts because I know I've worked harder and smarter than anyone."
We have heard every one of these lines from our athletes, most of them daily. Training, in addition to their skill work, leads to the immense changes in both their physical attributes and confidence that these quotes illustrate. Your skill work will come back, that's like riding a bike. How many people can say that their ability to play low, jump, move laterally, sprint, and change directions quickly is perfect?
"She actually hit her first career home run a few weeks ago and has hit several other balls to the fence – without question, the ball is jumping off her bat better this spring and I can say that because she's using the same bat she used last spring! With strength comes confidence and she is playing with a high level of it right now." – Tim G., Father of PSTS Softball Athlete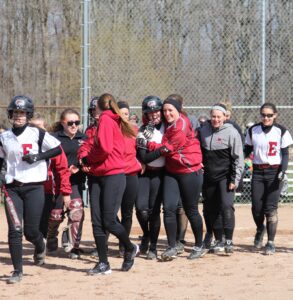 We hear some pretty common objections from female athletes who inquire about training, so we would like to share why these cons are actually pros when training is done correctly.
1.) Athletes need to practice their skills, and thus don't have time to train.
When training, you practice and perfect the movement patterns behind your skills.
Stick work won't put more power on your shot (provide more horsepower), but learning to brace and rotate powerfully will.
Putting shots up won't allow you to elevate with a defender in your face, but learning to jump and land powerfully will.
Practicing hitting won't get you over the net and hitting more powerful shots, but learning to jump and use your shoulder effectively will.
2.) Athletes need to get in front of college coaches early, so they have to play clubs/AAU/open gyms/etc.
Getting in front of college coaches is great, athletes need the exposure to try and get scholarships, but it must be done well. What happens when you get in front of a college coach and he/she finds out you're weak, injured, or not as physically developed as athletes with the same skillset?
When two athletes of equal skill meet, the stronger, more efficient one will always win. College coaches know this, and they've all seen the kid who is all show and no go.
3.) Athletes need to complete with a larger talent pool than their high school/conference/club to be ready for college and get recruited.
Athletes do need to compete with a larger talent pool, and we all know that athlete who is a big fish in a little pond. The best can and WANT to compete with the best. While you may see that other girl who is just as good as you only once in the season, you can compete with that level of athlete every day you come to the gym. Furthermore, while most freshman have no idea what they're doing their first year of high school or college, training in an environment with different ages and skill levels of athletes will give them an expectation of what is to come. They will learn valuable skills for both socializing and competing at a higher level.
"…I have become stronger…I have become faster…and I have formed a family who have been to my games and have constantly supported me. PowerStrength has been a great fit for me, I just wish I had found it sooner. I'm looking forward to more training throughout my collegiate career with my PowerStrength family." – Liza Elder, 4x state champion, State Record Holder for Goals and Points, 2x All-American, 2015 Midwest Player of the Year, D1 Lacrosse Scholarship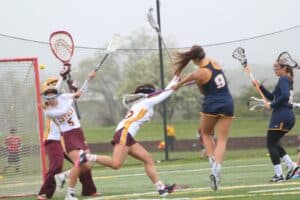 Bottom line, if you want to be the best around, succeed in your sport, and get noticed by college coaches, you have to train. Setting aside an offseason to get better physically is a goal every female athlete should have. Not many do, so you inherently set yourself apart by training in a smart, safe, and competitive environment. The best part is your training can be worked around a modest skills practice schedule, but the training should be the priority.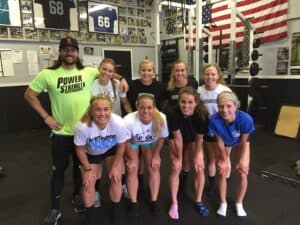 "Last year my approach vertical was 9'1. Now I'm touching 9'8. A BIG thanks to PowerStrength for helping me INCREASE MY VERTICAL BY 7 INCHES!" – Alexandria P. – College Volleyball Player
If you're a female athlete who would like to be part of a proven training program, with the best group of motivated female athletes around, simply click the link below to schedule your free consult and we'll guide you every step of the way.
www.powerstrengthpro.com/contact/
-Skyler