How this College Volleyball Team Earns Ongoing Success
We have had the opportunity to train Cornerstone University's volleyball team for the last 7 off-seasons. The team trains with us 3 days a week throughout the winter and spring, and many of the local girls train with us over their summer off-season.
The seniors this year have an obscene career win-loss record of 112 wins and 38 losses. They haven't lost at home in 27 matches. The last couple years they have ended the season with huge win streaks. They have multiple conference tournament wins, conference "player of the year" accolades, and conference "coach of the year" awards. Combined they have won so many conference "player of the week" titles that it's difficult to count.
The team won the conference tournament this year, their first since 2003, and they also won the conference. The senior class career record will improve further, as they are headed to the NAIA national tournament for the second consecutive season and have earned a bye to the second round.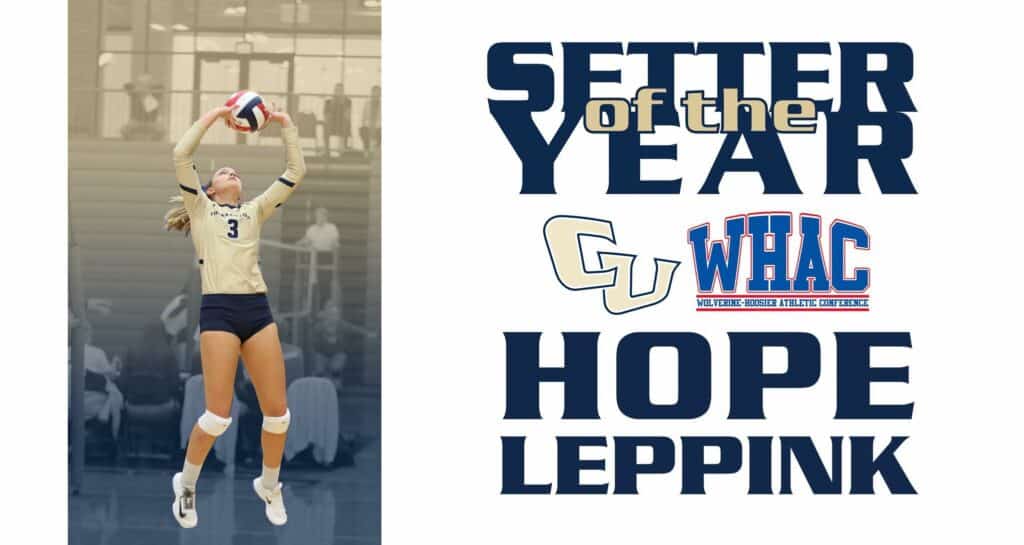 Strength and conditioning coaches can never claim responsibility for a team or athlete's success.  It takes a village to earn success as a team, program, and an individual. That's what makes the victories that much sweeter and the losses that much tougher.
The Cornerstone team has committed to doing the work and they earned all the praise. The girls are great athletes and demonstrate grit in everything they do. The coaching staff has won multiple postseason honors for good reason. They do a fantastic job and have always provided everything the girls needed to be successful – in volleyball, school, and training. The athletic training staff at Cornerstone is top notch and keeps the girls competing. There are many, many reasons outside of training that these girls are successful.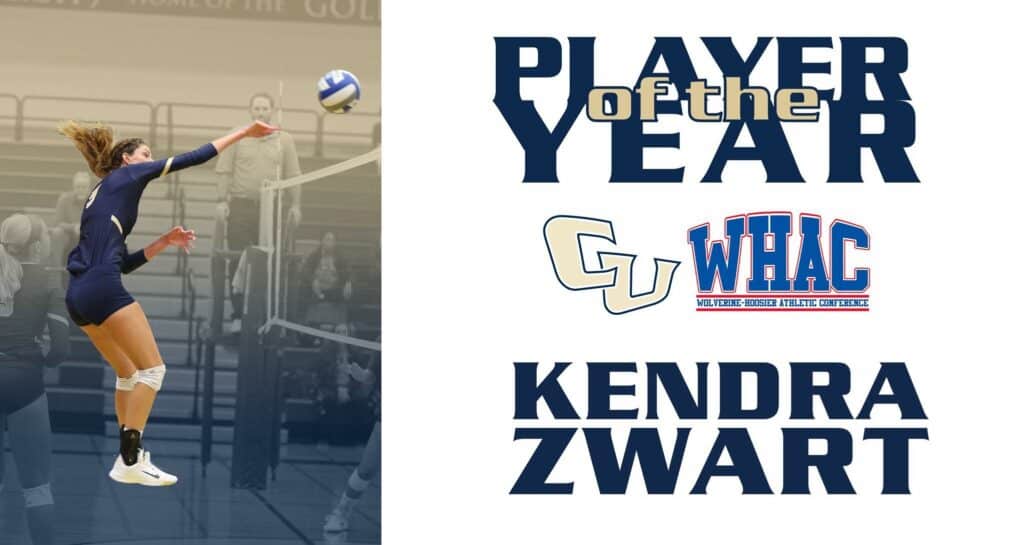 The small part we at PowerStrength play in their success is to get the athletes strong and keep them healthy. I believe we have achieved that for the better part of our 7-year tenure with them. Year after year the girls consistently sprint faster, jump higher, hit harder, and most importantly don't miss time on the floor. Their head coach tells us this season no Cornerstone volleyball player has had any injuries that kept them out of practices or games.
The goal we train for with the team is simple, and the training reflects that. These girls jump, sprint, throw, squat, hinge, push, pull, and a few other things. This type of training looks exactly like our training for high school volleyball players, albeit progressed for higher level athletes. As demonstrated, this helps create a team that is vastly less injured than their competition, better prepared than their competition, and dominant over many seasons.
If the process is relatively simple (given the commitment from players and coaches) and the outcome is proven, then why are so many high school and college volleyball players injured and under-performing?
First answer: they play too much.
High school volleyball players, depending on how far they go in their postseason play, get about 6 total weeks off in a year. They go right from school seasons to club seasons with very little in the way of rest or recovery. College volleyball players mostly get the summer off of playing, but they also generally play beach volleyball, help with their high schools, and run long skills camps. Not surprisingly volleyball is one of the top sports in which to find overuse injuries. Those girls' shoulders, hips, backs, knees, and ankles are some of the most jacked up you'll find in any athlete.
Volleyball is a highly skilled and technical game, and skills and technique must be honed to be successful. The problem arises, however, when this is done at the expense of developing general athletic qualities and recovering suitably.
Those athletes who specialize in one sport and take very little time off have astronomically higher injury rates than those who don't.
Volleyball girls should be taking time off the floor to get more mobile, fix posture, get stronger, and just plain rest. Even if their ability to hit around a block diminishes by 1% due to their time off, the physical gains from rest and training will FAR outweigh that loss. Truthfully most volleyball players will tell you they can fully reestablish their timing, technique, and awareness within weeks of an extended break.
The second reason why many volleyball players are injured and under-performing: their training is wrong.
Volleyball is a vertically dominated game, so most players want to increase their vertical jump and/or approach jump above all other qualities. This leads many players and coaches to "plyometric" programs, badly coached Olympic lifting, "vertimax" training, and all sorts of other flashy, dangerous, and ill-advised crap.
Volleyball practice usually consists of hundreds (if not thousands) of jumps and landings. Jump training or plyometric training being used because it's "volleyball specific" is simply piling more questionable reps on top of the reps they have to take in practice. Olympic lifting (cleans, high pulls, clean pulls, etc.) is great for Olympic weightlifters, but most girls don't have anywhere near the technique necessary to execute those lifts safely or effectively.  Again, piling more questionable reps on their practice load.
Our volleyball athletes definitely jump (and we have them jump more than the rest of our athletes), but that "plyometric" component makes up maybe 15% of our program. Our athletes are also progressed along a spectrum of jumping and plyometric work. Only once they demonstrate competency in one jump may they move on, and even in advanced training our jumps aren't extremely complicated.
On the other side of the spectrum many coaches and players believe in conditioning above all else. Girls are trained to be cross country runners and endurance specialists. Our volleyball athletes also condition, but with sprints, longer jump sets, sleds, carries, crawls, and core – like the demands of the game. Volleyball games are relatively short and comprised of many quick volleys interrupted by many long rests. Girls must move quickly and powerfully, then they stand around and/or celebrate. The floor itself is a meager 30 feet long and most players operate in a 10-foot box or smaller. There is absolutely no sense in training volleyball athletes to be endurance athletes. This conditioning makes up an even smaller component of our training, coming in at maybe 10% of what we do.
What's the other approximately 75% of training we do with volleyball players? If you've read any of our blog posts you are probably thinking it before you read it – strength. We train true strength to improve mobility, posture, jumping and landing mechanics, change of direction, hitting power, and conditioning. If a volleyball athlete adds 50 pounds to her squat she's going to jump higher. If an athlete doubles the amount of quality pushups she can do – say from 6 to 12 – she will hit the ball harder. When she works from 1 strict chin-up to 3 strict chin-ups there's a high chance her posture is better and her shoulders will be healthier.
The "problem" with training for strength is it isn't always flashy.
It is simple movements executed well to earn the next progression. It almost never "looks" like volleyball. It's definitely not easy and it's a commitment that takes time – the results aren't immediate.
If it's results you train for, however, training for strength is the best way to get them.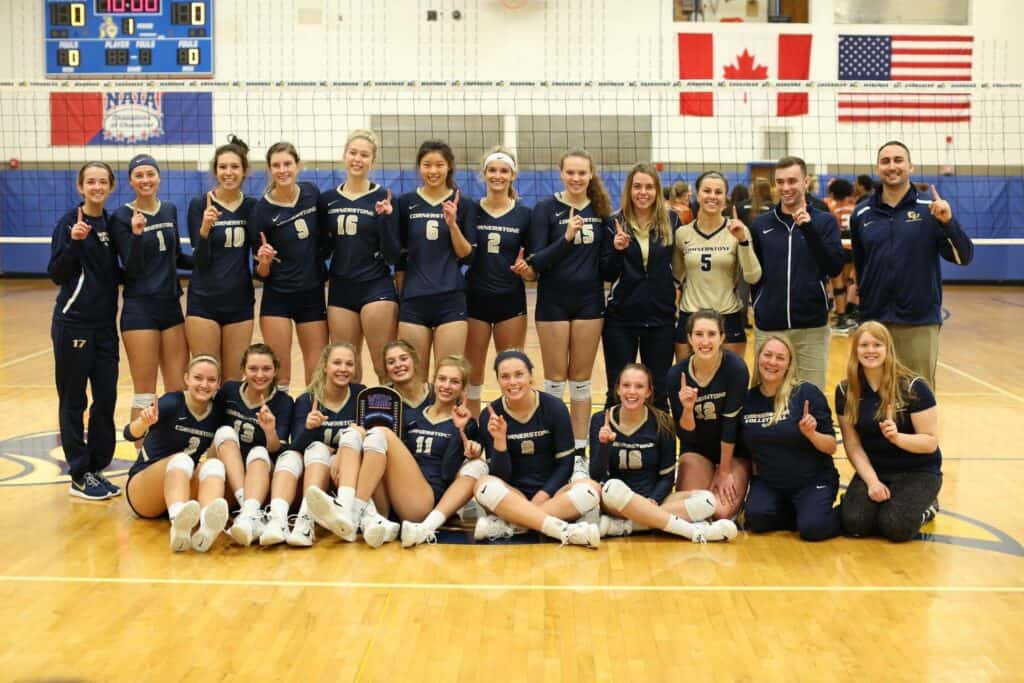 I want to go back to the original topic for a bit – the volleyball players we train are awesome and highly successful. There are probably many, many things they do differently and more effectively than other athletes and teams. We can't take credit for their success, and I maintain we play a small role among a ton of great coaches, trainers, parents, and administrators.
The common denominator we see – and the only one we can control – is that successful volleyball athletes take time off and train correctly.
If you're a volleyball athlete, please contact us to schedule your free session to get an introduction into our year-round training programs.